Constance Hotels & Resorts counts another sommelier graduate; Jaissen Pandoo.
After Manish Boodhoo, Jaissen is the latest lucky employee to have received his diploma from "Université du Vin - Château de Suze la Rousse". A University situated in the south of the Rhône-Alpes region dedicated to professional training and knowledge of wine since 1978.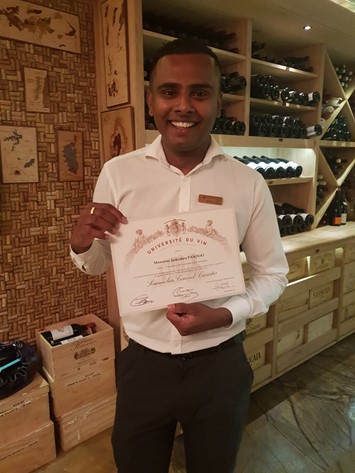 One of the many objectives of Constance Hotels & Resorts is to motivate and regularly sponsors the most deserving staff members for their sommelier training whether it's in Mauritius or abroad so that they excel in their passion.
Thanks to this, the country has now another new sommelier. Employed at Constance Hotels and Resorts, both Manish and Jaissen are fascinated by the world of wine.

"At Constance Hotels & Resorts, we believe that proper training and exposure helped in levelling standards and personal growth. We make it a priority to give our employees the best tools, on a continuous basis, so that they, as a first step, take good care of our customers, but also develop their talents. Our teams' skills allow our guests to live exceptional experience within our exceptional setting" - said Jerome Faure, Corporate Sommelier at Constance Hotels & Resorts.
Obtaining the qualification is just a stepping stone for both Manish and Jaissen; the young sommeliers aspires to be Head Sommelier.