Constance Hotels & Resorts is thrilled to announce the appointment of Constance Moofushi's new General Manager, Mr. Mevin Ramasamy.
With over 15 years of experience in the hospitality industry, Mr. Ramasamy brings a wealth of knowledge and expertise to his new role.
Mr. Ramasamy has held various positions in renowned hotels and resorts, including Constance Belle Mare Plage, C Mauritius, Sofitel Imperial Resort, Paradis Beachcomber Golf Resort & Spa, Long Beach Golf & Spa Resort.
His extensive experience in the hospitality industry delivering exceptional guest experiences make him the perfect fit for Constance Moofushi.
In his new role, he will oversee all aspects of the resort's operations, from guest services to food and beverage,
to ensure that every guest has an unforgettable experience. He is also committed to maintaining the resort's reputation for sustainability and responsible tourism practices.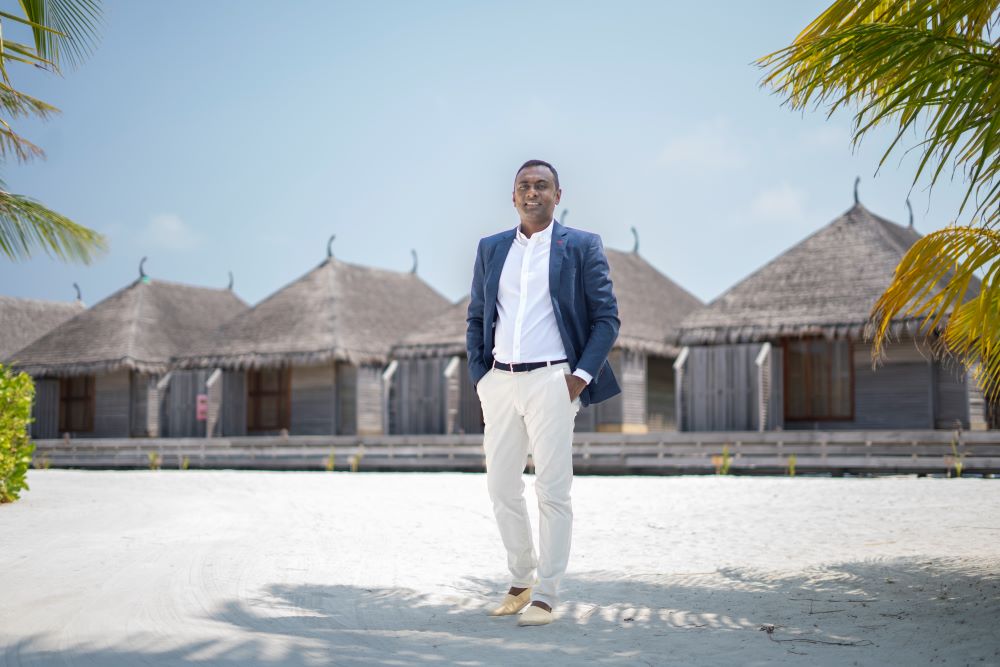 Here's more on the new General Manager of Constance Moofushi.
In your 18 years of hands-on experience spanning across different industries and countries, tell us about your most significant milestone. 
"The most significant milestone in my career was the opening of C Mauritius, the first hotel of C Resorts brand.
The whole project was a great challenge.
I enjoyed every moment, the contribution to the project and creation of the concept but also the recruitment campaign part and training of the recruits.
 Like many other people in the industry, the biggest challenge in my career has been the Covid 19 period and the transformation of C Mauritius hotel as a quarantine center.
This was a very challenging period where everybody had to think out of the box, be resilient and learn new ways to work and live.
Finally, the launching of the first C Kite Festival at C Mauritius was also a big highlight of my career and a great opportunity to discover and tackle a new market segment."
Why hospitality? 
"I am passionate by people and an avid epicurean too. Hospitality is for me a passion.
It is a sector where you need to be genuine and curious. It is also a sector in which you can grow and where there is always room for improvement." 
Do you think you can work in hospitality till your retirement?
"The hospitality field is made of passionate people who work hard and play hard.
  I do not think about retirement or changing field." 
In your opinion what are the five traits to succeed in hospitality.
"Passion, Consistency, Curiosity, Focus and ability to adapt."
39 years old, General Manager at a luxury hotel in Maldives.
What's your secret? OR any tips to our young aspiring hotelier. 
"Passion. Every day is different in the hospitality business, sometimes there are days with 25 hours, and you really need to be passionate.
There is a quote I love that summarizes it well 'Choose a job you love, and you won't have to work a day in your life'.
If I have to give an advice, it would be to take one thing at a time and know where your priorities are.
 The most important is to be well surrounded by passionate people who challenge you and make you better every day. My role is to keep this passion alive.
I try my best humbly, stay grounded and seek to understand rather than be understood."
You are now at the 4th hotel under Constance Hospitality Management - Allow us to ask, Why Constance?
"True by Nature, is more than a motto... there is throughout the company a true genuine care towards the 5000+ employees of the group.
 It is also an equal opportunity employer; the emphasis is made on training with many masterclasses. Everything is made to encourage the development of the team.
 Leaders at Constance Hospitality Management Limited are encouraged to develop team members so that we can move them up to the next level. Our competency framework is very detailed and allows our #truepeople to develop new skills.
I was introduced to Constance Minimum Standards back in 2014 when I joined the group.
From that day onwards, I felt connected to the genuine hospitality in everything that Constance offers and to the core values of the group."
What can we expect from you for Constance Moofushi Maldives?
"To be proactive and to provide unconditional support to my team and CHR Brand.
 I am striving to ensure our business continuity in the most sustainable and circular economy model possible and also to help the local culture to flourish.
Innovative approach, digitalization, upholding and enhancing the service excellence culture towards the guests and the team, are part of my missions."